Wood, Daniel J., Esq.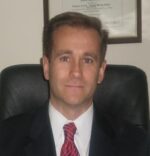 Biography:
Attorney Wood has been practicing law in the Commonwealth of Massachusetts since 1995. During his first 10 years of practice, Attorney Wood worked for an insurance defense firm and focused primarily on defending insurance companies and their insureds in personal injury claims. However, since 2004, Attorney Wood has represented individuals and families who have been injured in accidents, while still representing several self-insured entities on the defense side in other matters.
From automobile accidents to slip and falls, to construction site accidents, Attorney Wood has achieved favorable results for his clients for over a decade, on both sides of the table.
On the defense side, Attorney Wood has defended numerous multi-million dollar cases on behalf of his clients over his career. He has litigated personal injury cases in District, Superior and Federal Courts throughout the Commonwealth. He has defended numerous large exposure cases on behalf of his clients. He has also presented numerous seminars, both locally and nationally, for insurance industry professionals, insurance company clients, and various insurance industry associations.
On the Plaintiff's side, Attorney Wood has utilized his years of experience and knowledge of the insurance industry to assist people who have been injured in accidents. Having worked as an attorney for insurance companies for many years, Attorney Wood provides his personal injury clients with unique expertise and insight that most other attorneys are unable to provide. With over 20 years of experience in personal injury litigation, and the benefit of having represented both plaintiffs and defendants over the years, Attorney Wood has developed a keen ability to discern the strengths and weaknesses on each side of a personal injury case. Based upon his unique experience in representing both plaintiffs and defendants, Attorney Wood is able to be a fair and impartial neutral who will assess your case objectively and, as a mediator, will work tirelessly to bring your case to a final resolution.