Velis, Hon. Peter A. (Ret)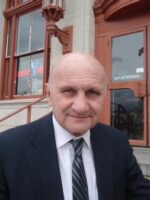 Biography:
Judge Peter Velis graduated Boston University in 1965 with a degree in Public Communications and went on to earn his Juris Doctor degree from Suffolk Law School in 1969. Shortly after passing the bar, he opened practices both in Boston and his native Westfield.
In 1973, he was elected to the Legislature as a State Representative for the Fifth Hamden District where he served until 1978. While a legislator, Peter served on the Judiciary Committee and was co-author of the Court Reform Act of 1978.
In 1978, Judge Velis founded the law firm of Velis & Ziter that handled civil and criminal matters in both state and federal courts. Despite a heavy caseload, he generously gave his time as a panelist for numerous continuing legal education programs.
In November 1998, he was nominated as an Associate Justice of the Superior Court. During his time on the bench, Judge Velis sat in many of the Superior Courts, including Worcester, Barnstable, Franklin, Berkshire, Hamden and Hampshire counties. During his time on the bench, Judge Velis served as a valued colleague and mentor to numerous legal interns. He earned universal admiration for his tireless work habits, exemplary judicial demeanor, fairness, patience and courtesy by all who spent time in his courtroom.
Upon his retirement in the fall of 2012, Peter returned to Westfield to serve as an adjunct Professor of Criminal Evidence at Westfield State University