McCarthy, Frederica H., Esq.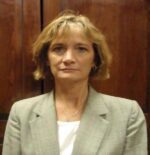 Biography:
Attorney Frederica McCarthy is a seasoned and well-respected litigator in Western Massachusetts, with over 30 years of experience in trying cases. At the firm of Murphy & Manitsas, LLP., she currently handles a civil law caseload of both plaintiff and defense matters with a concentration in workers compensation. Also, her current position as Town Counsel for the Town of Lenox, MA has allowed her to gain experience in many areas of municipal law, including real estate, employment and zoning.
Prior to her present position, she was with the Springfield firm of Robinson Donovan, PC. At Robinson Donovan, she was head of the workers compensation department from 2001 to 2004 and later head of the litigation department from 2005 to 2008.
In addition to her trial practice, Attorney McCarthy has served in several positions in the   Hampden County Bar Association, along with lecturing on workers compensation law and teaching tort law at Elms College.