Greenberg, Hon. Mel L., (Ret.)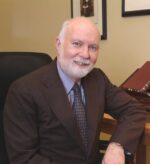 Biography:
Judge Greenberg, recently retired from the Massachusetts Appeals Court, has had an illustrious career, presiding over trials at many different levels of the court system. Appointed to the District Court in 1977, he handled cases for both the District Court and the Appellate Division of the District Court. In 1982, a Lawyer's Weekly survey recognized Judge Greenberg as one of the "10 Best Trial Judges in the Commonwealth." He was appointed to the Superior Court in 1983, serving there until 1990, when he joined the Appeals Court, where he served until 2007. Upon retiring from the Appeals Court, Judge Greenberg accepted the position "of counsel" to the Worcester firm of Seder & Chandler. He served as the chair of the firm's Appellate Advocacy and Consulting Group and co-chair of the Arbitration and Mediation Services Group, which specializes in dispute resolution of complex commercial, insolvency, corporate and intellectual property matters. In 2017, Judge Greenberg opened his own practice in Worcester, Highland Law.
Before his appointment to the bench, Judge Greenberg had a very successful career as a Worcester area trial attorney in the 1960s and 70s, litigating cases involving employment issues, civil rights, personal injury, criminal, subrogation and general civil matters. He also served as a Judge Advocate General for the United States Army Reserve from 1961-67.
Alternate Dispute Resolution was a logical next direction for a jurist with Judge Greenberg's stature and extensive trial experience. In addition to being a Case Closed panelist, he currently serves both on the American Arbitration Association's panel and the Real Estate Bar Association's panel. Judge Greenberg has completed the Program on Negotiation and Mediation at Harvard Law School.
Judge Greenberg has always maintained strong ties to the Worcester area and serves as a director for the Worcester Center for Performing Arts and the Hanover Theatre.