Greaney, Hon. John M., (Ret.)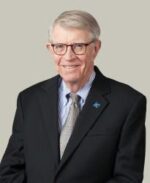 Biography:
Justice John Greaney's exemplary legal career spans over 50 years, providing him with extensive experience as a lawyer and judge in a vast range of areas, including both trial and appellate practice.
A graduate of Holy Cross and New York University Law School, Justice Greaney first started out as a lawyer at the Springfield firm of Ely and King, where he practiced for over a decade until his appointment to the Hampden County Housing Court. In 1976, he joined the Massachusetts Appeals Court, where he came Chief Justice in 1984. In 1989, he was appointed to the Supreme Judicial Court where he served until 2008.
During his time on the bench, Justice Geaney participated in many landmark decisions, among them, Goodridge v. Dept. of Public Health, where he wrote a concurring opinion establishing Massachusetts as the first state to legalize same-sex marriage.
After leaving the bench, he joined the faculty of Suffolk Law School, where he taught Constitutional Law, Criminal Law and Appellate Advocacy. He now leads the ADR practice group at the Springfield firm of Bulkley Richardson.