Dussi, Gina T., Esq.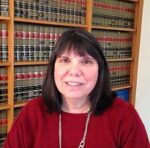 Biography:
Atty. Dussi began her legal career in a small general practice firm in Lynn in the early 1980's as a young associate. After three years there, she moved over to defense work, first at the Law Offices of Thomas Polimeni and then, a short time later, at the Law Offices of Lawrence McAuliffe, in-house counsel for Sentry/Middlesex Insurance. Gina handled defense work for Sentry/Middlesex for almost twenty years until 2007, when she took a position as claims manager for Veolia Water North America. At Veolia Water, she managed workers compensation, general liability and auto claims for over 2000 employees throughout the US and Canada. Next she spent a year at Arthur Levine & Associates, doing defense work for Safety Insurance, before returning to the Plaintiff side, at her current firm of Finbury & Sullivan, a well-known personal injury firm North of Boston.
Atty. Dussi has completed formal mediation training and has attended MCLE seminars and workshops on mediation to hone her skills. She has also been involved with Domestic Violence issues and has handled pro-bono cases in the areas of child custody and divorce. In addition, Gina taught at Massachusetts School of Law as an adjunct professor.