Cornetta, Hon. Robert A., (Ret.)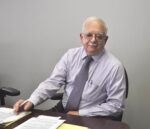 Biography:
Retiring from the Superior Court in Essex County after 23 years on the bench, Judge Cornetta is now focusing on providing arbitration and mediation services at his new firm of Cornetta Babine. Judge Cornetta sat as a District Court Judge starting in 1992. During that time he served as a regional Administrative Justice and a Civil Circuit Administrator for Suffolk and Essex County including all the BMC courts with the exception of BMC Central. His last 6 years on the bench were spent on the Superior Court of Essex County, where the vast majority of his cases were civil.
Prior to joining the Massachusetts Trial Court, he was an assistant DA, Town Manager for the Town of Saugus and Assistant Commissioner for the MA Dept. of Public Welfare. He had a private law practice in Saugus from 1983 to 1992, where he handled many areas of civil litigation, including Construction, Real Estate and Medical Malpractice.
Judge Cornetta is currently an adjunct Professor of Law at MA School of Law and has been a faculty participant in seminars at the MBA, MCLE and the MA Judicial Institute.