Koch, Isabelle L., Esq.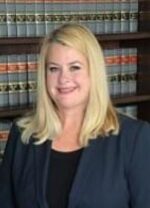 Biography:
Isabelle L. Koch, Esq., joined Kennedy, Johnson, Schwab & Roberge, L.L.C., in May of 2017, as an associate and represents clients in motor vehicle accidents, premises liability and complex personal injury claims. Prior to joining the firm, she was senior defense counsel for Allstate Insurance, and in her 10-year career with that company tried more than 50 jury cases to verdict. This unique mix of both Plaintiff and Defense side practice gives Isabelle a well-balanced perspective to value cases.
She received a Bachelor of Arts in political science from the University of Connecticut in 2000 and her Juris Doctor from the University of Connecticut School of Law in 2005. Ms. Koch is admitted to practice law in the State of Connecticut and is a member of the Connecticut Trial Lawyers Association, the New Haven County Bar Association and the Connecticut Bar Association. Ms. Koch lives with her husband and twin boys in Madison, CT.