McGoldrick, Jill M., Esq.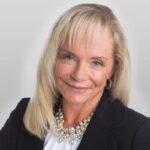 Biography:
Attorney Jill McGoldrick has been a trial attorney in Connecticut since 1994 when she was hired as a staff attorney for a large insurance carrier. After several years successfully handling and trying numerous jury cases, she was promoted to managing attorney, assuming responsibility and oversight of a mid- size law office in Southern Connecticut with roughly 1000 pending matters in litigation. The firm handled automobile negligence, commercial liability, general liability, products liability and construction matters. She remained in that position for 10 years, taking leave in late 2013.
In September, 2014, Jill opened her own firm, The Law Offices of Jill M. McGoldrick, LLC. She represents plaintiffs in personal injury matters and serves as a mediator and arbitrator, helping others to resolve their disputes.
Jill brings her background as both a defense attorney and plaintiff's attorney to her role as a mediator. Familiar with the workings of the courtroom, she can weigh in on legal issues, and recognize other stumbling blocks, guiding the parties to overcome them.   Jill has successfully mediated matters at all levels of complexity and dollar value, from low impact motor vehicle collisions to complex, multi-party produc ts liability litigation. With a genuine desire to assist others, she comes to every mediation with optimism and perseverance, and asks only that the parties do the same. Her goal of every mediation is for those involved to leave feeling satisfied with a favorable resolution, relieved to have put the matter behind them, and secure in the knowledge that they were not only heard but understood